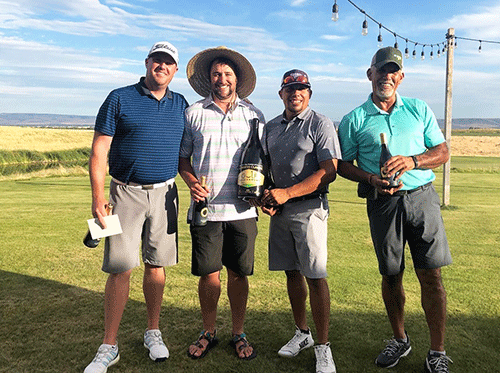 It's time to tee up for the 2020 Business Classic Golf Tournament presented by Columbia REA on Thursday, August 13 at Wine Valley Golf Club. The club's stunning Dan Hixson design unfolds on a grand scale, playing over rolling hills in the shadow of the Blue Mountains. Each hole affords multiple lines of play, ensuring a pleasant round for every golfer and a true challenge for those who seek it.
Event Format
The Tournament is a four-player scramble (each player plays their ball from the position of the ball of their choice) with team awards for low gross and low net plus numerous other prizes. Proper golf attire required to play. Tee-times will be held from 11:00 a.m.-3:50 p.m. with 10 minute intervals. Tee-times will be assigned prior to the tournament.
Entry fee is $125 per player or $500 for a foursome and includes green fee, cart, boxed lunch. There will be contests in the morning and throughout the day, including a putting contest, closest to the pin, and hole-in-one. Players will be provided a "swag bag" upon check-in with items needed for the tournament.
Online Auction
This year, we will be running an online auction where players can bid on items prior to the Business Classic Golf Tournament. The bidding will end the day of the tournament at 5:00 p.m. You do not have to be at the tournament in order to win the auction items - whoever has the winning bid - whether present at the tournament or not - will win the item. There will be a "pick up station" available the day of the tournament for easy transport for players.
Ready to Register?
Non-members may proceed without needing to login prior to purchasing tickets. 4 player team: $500. Single player: $125.
Sponsorship Opportunities
Thank you for your interest in sponsoring a portion of the Business Classic Golf Tournament. Please view our sponsorship booklet for availabilities. Email kdovalle@wwvchamber.com for questions.

The Annual Community Awards Banquet has been celebrating Walla Walla Valley's citizens, organizations, and businesses for 137 years. The Annual Banquet is a showcase for Walla Walla Valley citizens, organizations and businesses.  Each year, we honor our Hometown Heroes who work tirelessly to ensure we have access to the best quality of life possible. Hometown Hero Awards include; Educator of the Year, Law Enforcement Officer of the Year, and Outstanding Firefighter of the Year.  We recognize and honor Man and Woman of the Year (Awards of Merit), as well as the Chamber Ambassador of the Year. Walla Walla University, Whitman College and Walla Walla Community College also recognize their outstanding individuals within their communities. The evening also includes festivities, including a delicious formal dinner, and live & silent auctions.
Sponsorship of this signature community event is ideal for any business looking for recognition in front of 300+ guests. Businesses will be rewarded with exposure matching their sponsorship level. Anyone wishing to be a sponsor can contact the chamber at 509.525.0850 or email kdovalle@wwvchamber.com.
The Walla Walla Valley Business Awards Showcase presented by Baker Boyer honors individuals and businesses for excellence, leadership, entrepreneurial spirit, and business practices that make our community a great place to work and live.
Awards include: Start-up Business of the Year, Business of the Year, Duane Wollmuth Catalyst Award, Agribusiness of the Year, Non-Profit Organization of the Year, Workforce Development, and Young Entrepreneur of the Year and the Women in Business Woman of Influence Award. A committee of Chamber volunteers will evaluate the nominees based on the award criteria and select the winners. All information is confidential.
Business After Hours events offer members and prospective members alike the chance to meet colleagues representing products and services in an engaging, unique atmosphere. Each BAH host or co-sponsor present to their guests an opportunity to converse with hundreds of business community members in a manner befitting what they themselves have to offer as a company, making each and every monthly event distinctive.  Thoughtfully detailed venues, inspired fare, delicious drinks, non-profit donation opportunities, door prizes, and of course contacts galore await you!
Women in Business is a new initiative from the Walla Walla Valley Chamber of Commerce established for women in business who wish to build a strong network of women intent on inspiring one another to achieve individual potental; support each other in business endeavors; and create a legacy through mentorship.
This quarterly lunch meeting series provides dynamic speakers along with a networking platform that inspires, educates, and empowers women to grow and succeed in business and leadership. We believe that we are stronger together, and that we can create significant change for ourselves, our workplace, and our community when we connect with other women‐in‐business, at all levels of our careers. Join us!
Thank you for your interest in having the Walla Walla Valley Chamber of Commerce participate in your Ribbon Cutting. We want you to have a wonderful and successful experience so here are a few guidelines and suggestions we hope will help you plan for the event.
Who can schedule a ribbon cutting?
Any Chamber member in good standing may schedule a ribbon cutting. This ceremonial event is often used when a business has:
Recently opened
Moved to a new location
Has been remodeled or has expanded its current location
Is celebrating a milestone anniversary
Is under new ownership/management
Holiday and weekend ribbon cuttings have low attendance from the business community and chamber staff may not be available. We have found that the best time to schedule your ribbon cutting is Monday-Friday. Since Chamber ribbon cuttings are business to business events, we do not recommend you schedule your event on a weekend. Business members are best available at the end of the work day (4:00pm – 5:30pm). Additionally, the Chamber will not schedule the same day as other ribbon cuttings. The Chamber cannot guarantee the number of guests in attendance.