Chamber Business Advocacy Committee
Monthly Advocacy Committee Meeting
Member Advocacy Committee meetings take place on the first Tuesday of each month from 12:00-1:00pm.
Meetings are be held via zoom and will include updates from our Legislators and their efforts during the legislative session. Attendees will also be able to discuss issues facing employers at the local, state and federal levels. COVID-19 and economic recovery efforts will be a primary focus of the Advocacy Committee. Longer term function of the committee will be to plan and facilitate candidate forums for elections, act in an advisory role to the Chamber Board of Directors, cultivate relationships with elected officials and discuss issues critical to the success of our local employers.
Members of the Walla Walla Valley Chamber of Commerce are eligible to participate in these meetings. Advocacy is a key service provided by the Chamber in our mission to serve as a champion for the cause of business in the Walla Walla Valley. Stay tuned for registration details!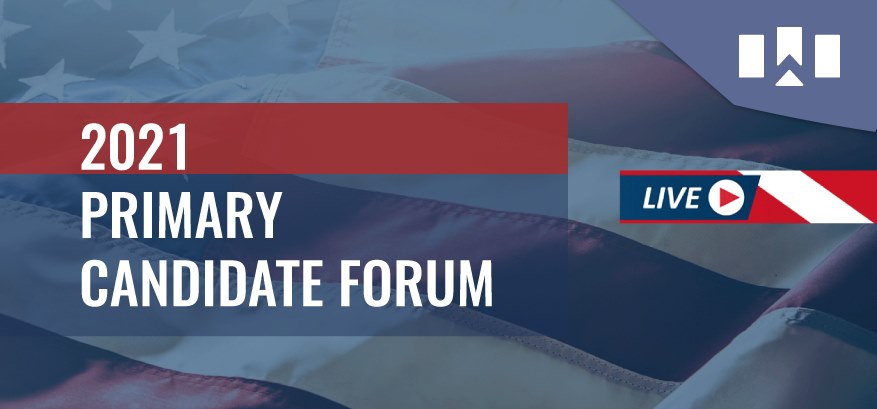 Recorded LIVE 7/13/21
Meet your group of Representatives and Candidates running for:
CITY OF WALLA WALLA City Council Position 3 - At Large
Sharon Kay Schiller
Rick Phillips
Gustavo Reyna
Central Ward - City Council Position 2
Brian Casey
Burl Wallace
Adam Kirtley
Walla Walla School District No. 140 School Director Position 2
Becky Waggoner-Schwartz
James Stovall
Terri Trick
Hosted by the Walla Walla Valley Chamber of Commerce, American Association of University Women (AAUW), Whitman College Politics Department, Walla Walla Association of Realtors, La Voz, Walla Walla County Democrats, Walla Walla County Republicans, Walla Walla Union Bulletin, and the Walla Walla Latino Alliance.
Catalyst. Convener. Champion.
Through our strong relationships with  elected officials at all levels (City, County and State), we advocate for the rights of local businesses and take positions on proposed ordinances, rulings and legislation. The Business Advocacy Committee is part of the Chamber's commitment to representing the interests of business with government.
The mission of the Business Advocacy Committee is to carry out an advocacy program on behalf of the Chamber membership and business community within the governmental and political arenas and foster an effective working relationship.
If you are interested in more information about the Advocacy Committee, please email Kyle Tarbet